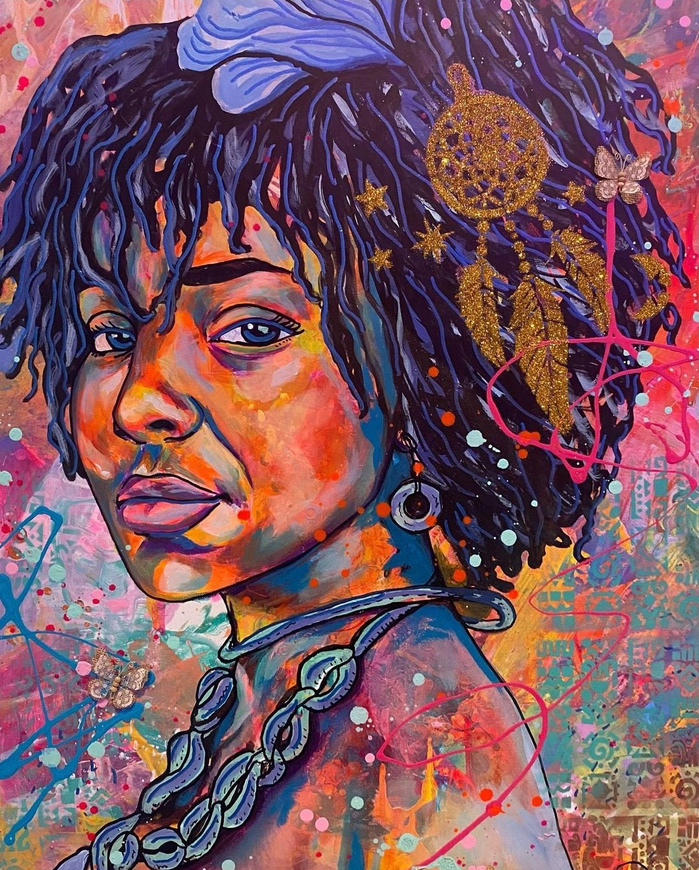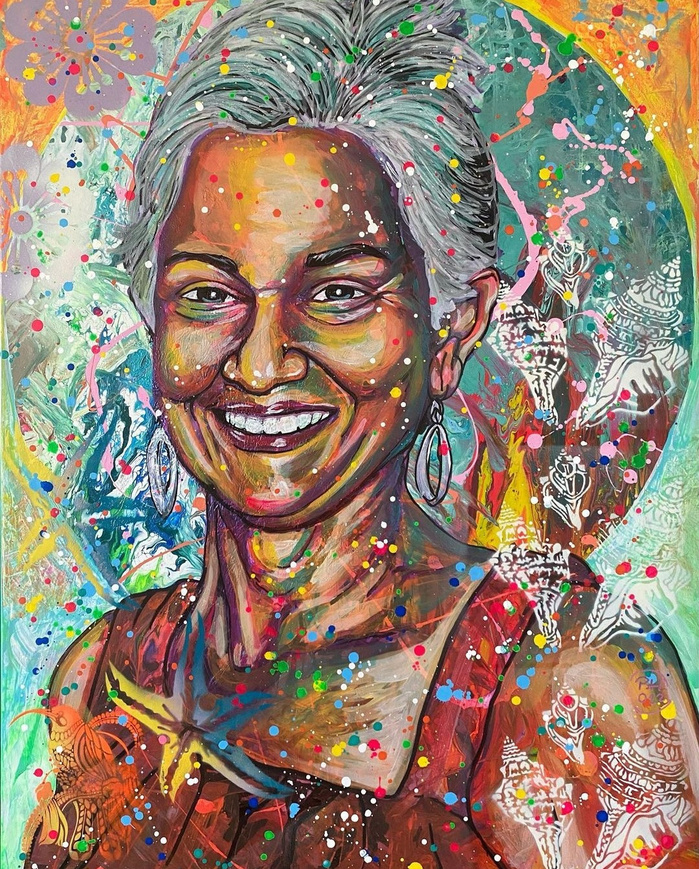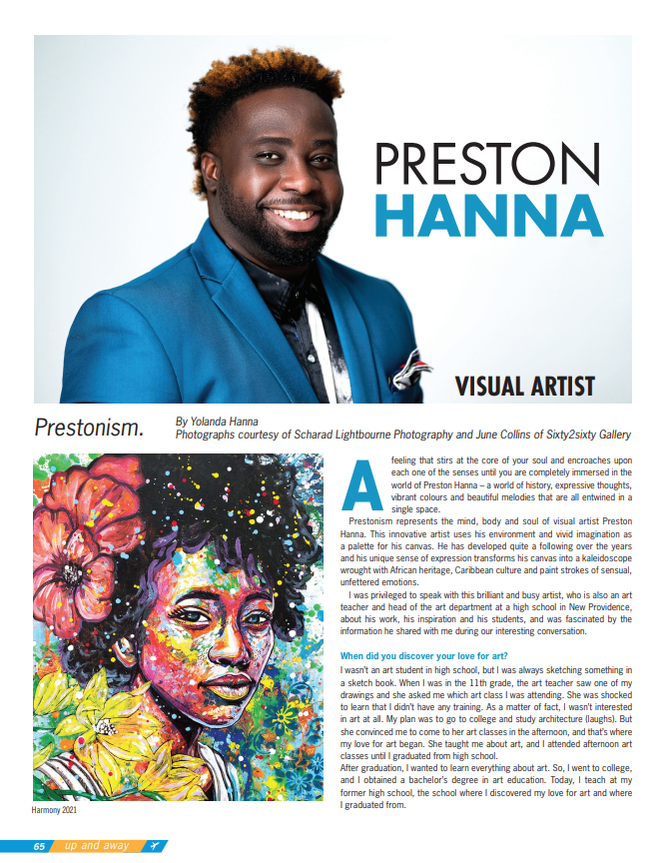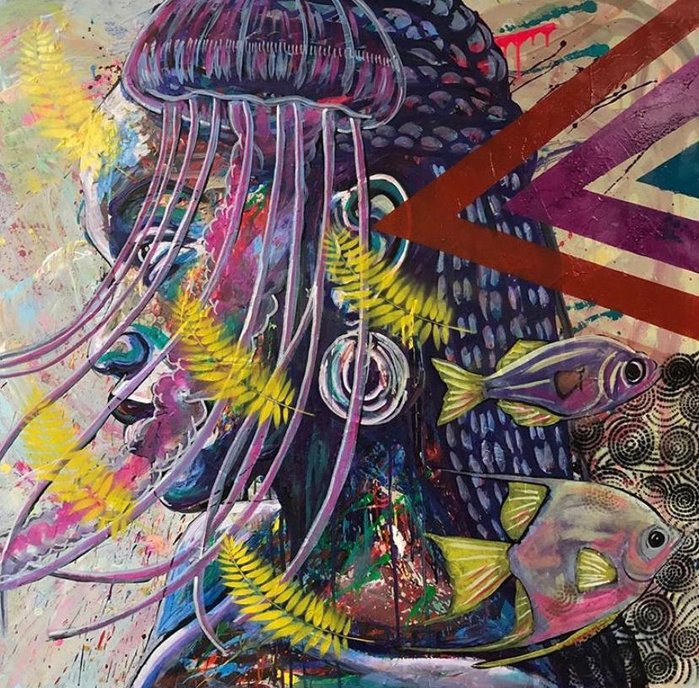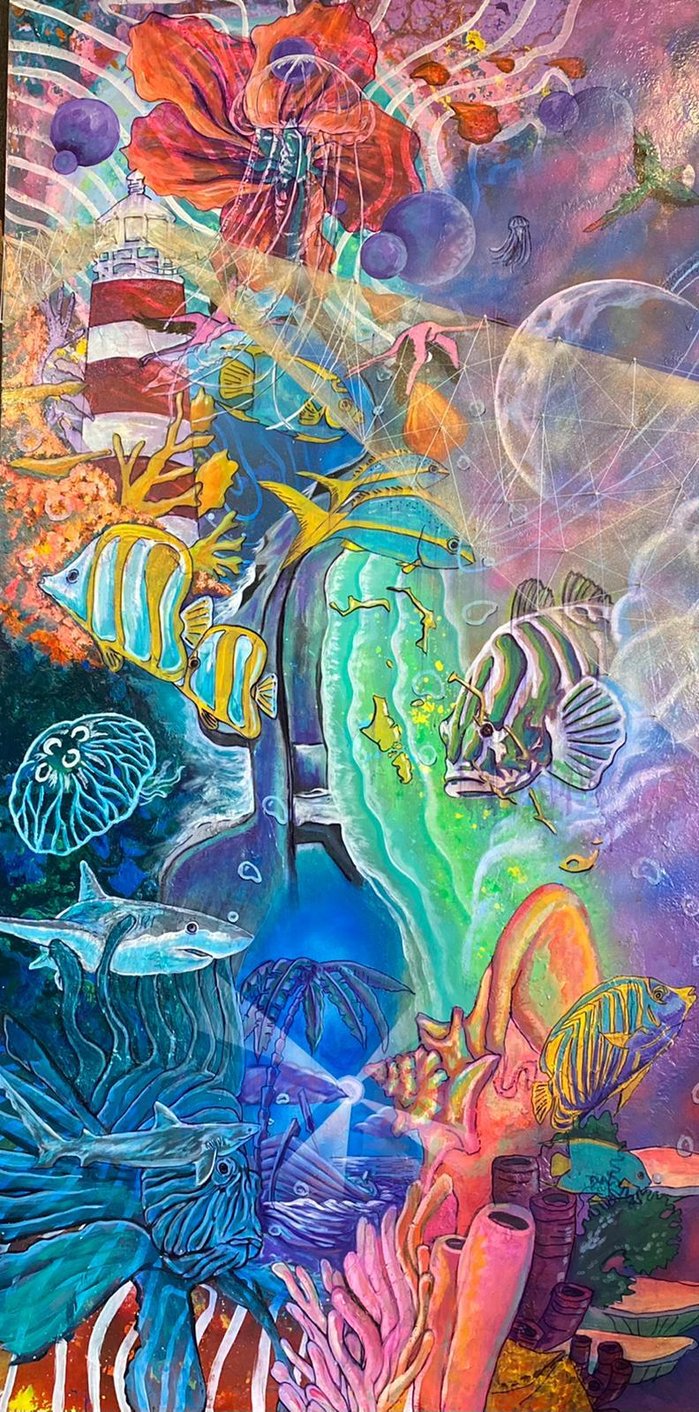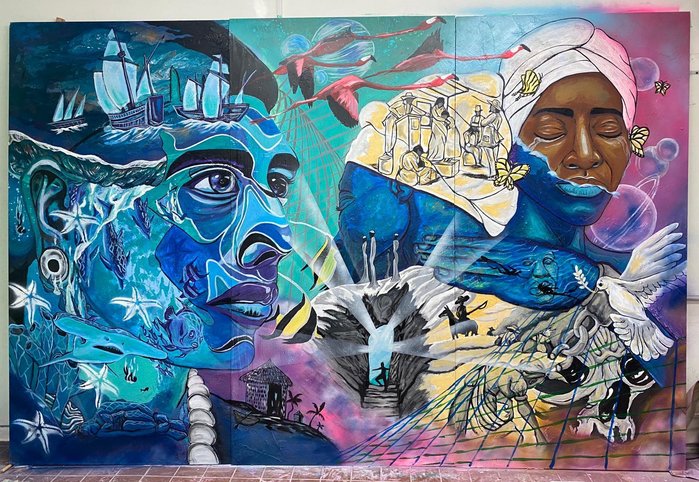 Preston Hanna is a young multi talented, innovative artist whose passion is to inspire, motivate, and excite his audience through his vivid expressions of artwork. Over the years Mr. Hanna has competed in several art competitions nationally and internationally. One of his significant achievements is winning the scholarship award from the Central Bank of the Bahamas to attend college. Additionally, he participated in various charitable events and art exhibitions. They would include Transforming spaces, the Rotary club, the Salus Project, Birthmark, and Interface just to name a few. Just recently he host and choreographed his first general public live art and dance show entitled "Prestonism" where he featured a series of work under the theme "Coral of the reef". Preston works tirelessly day and night using his talents to give back to the community. On a week days he teaches art at a local high school, teaches at the ministry of education after school art enrichment program and at night he stars in a show at Sandals Royal Bahamian entitled "Dream in Colour" where he donates his work that is created in the show to the sandals foundation where the work is auctioned and 100% of the proceeds go towards children charities in the Caribbean. On his weekends he also teaches art at his school and host sip and paint parties. His most recent art show was at Deltec Bank under the theme: "Water Me".

One may ask how did it all started? Why is he so inspired to give back to his community? At a very young age Preston knew he was gifted. He always saw the world differently from his peers. His true inspiration came from his creator and one might say he allowed himself to be a vessel to deliver a divine message through his work. You would always find Preston with a sketch book and pencil, sketching everywhere he goes. In fact this was actually the way he was discovered in his high school but he was never join the art class, his passion was architecture. This all changed when he meet a lady by the name of Mrs. Illingworth. Mrs. Illingworth discovered Preston sketching in his sketch pad one day in the office and immediately told him he needs to see her for art classes. Evidently he joined the art class in grade 11. She opened Preston Hanna's eyes to a new path in life and he never changed it ever since. He always felt the need to help others to discover their path in life.
Preston Hanna graduated C.V. Bethel Senior High school and graduated the College of the Bahamas with Bachelors in Art Education. He first taught art at St Andrews Primary School but later came back to his former high school. In a very short time he was promoted to head house coordinator, assistant year head, and just recently promoted as head of the art department. Hanna is also the head instructor at the afternoon ministry of education art enrichment program.
Hanna artwork is very expressive with his use of colour and the clever use of different mediums. He paints on anything to express his elaborate ideas to give his audience a sense of rich organic meaningful feeling. He greatest inspiration is his mother who passed away, in an effort to make her proud. His life motto is "work hard, dream big, never give up".